.



Broodmares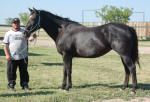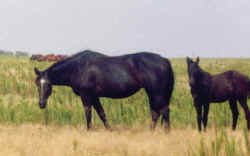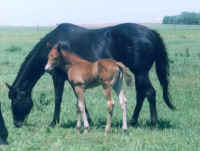 pictured 2005 pictured 2006
VITTORO DAUGHTER
THREE CHICKS SI 100
THREE OHS SI 100
VITTORO SI 101
POUNDING HOOVES
1987 Black mare
TONTO BARS HANK SI 100 by TONTO BARS GILL SI 95
GRAND FOLLY
Little Bar Babe Racing ROM
1987 Black 15H, 1100 lbs
Own daughter of Vittoro
Vittoro (deceased) SI 101 winner of 13 Stake Races, LTE $133,385,
son of the All American's youngest winner ever, "Three Oh's" SI 100 LTE $201,000
Bottomside is Tonto Bars Gill...like Scamper 10 time WPRA World Champion
If you are shooting for a barrel horse producer, here she is.
Long hip
Outstanding mover
Color producer
SOLD
---
Congratulations to the Escarcega Family, Perryton, Tx on buying Shes Man Enough!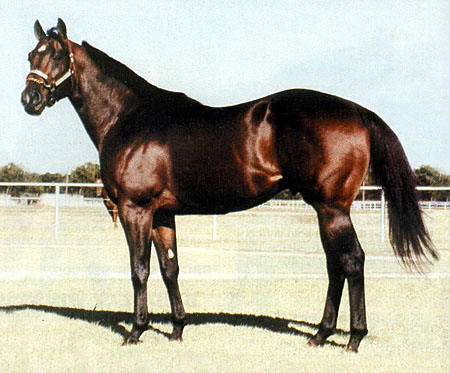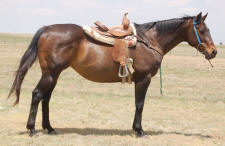 Shes Man Enough Gone To The Man
NFR BRED BROODMARE GENTLE & KIND
ROCKET WRANGLER SI 97
DASH FOR CASH SI 114 LTE $507,000
GONE TO THE MAN SI 94 LTE $70,000
DREAM CASTLE SI 95 by AZURE TE LTE $119,022
SHES MAN ENOUGH
1992 Brown mare
MOON DECKSI 95
MOON SPOT IT SI 90
Lucky Luna Lady
PACIFIC BAILEY SI 100
Forever Lovely SI 93
1992 Brown 15.2H daughter of GONE TO THE MAN
Sire of KOOL KUE BABY LTE $783,519, World Champion Running Horse '96 & '98
Bred like Chani Payne 2005 Rookie of the Year's mare Little Bit Princess
who was also out of a daughter of Gone To The Man
Molly Powell rode "Princess" to at the 2005 NFR
This mare stood Reserve Grand Champion AHSA at Halter only time shown
Gentle, Gentle
Light mouth
Smooth mover
Always kind, foals are the same way
Buy at DEVERS ARENA

SOLD
---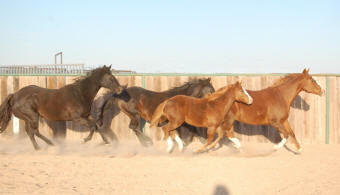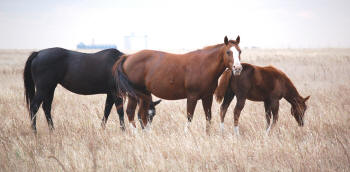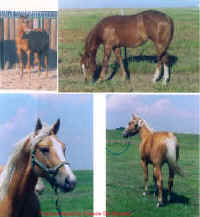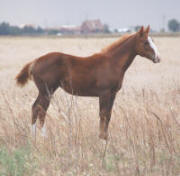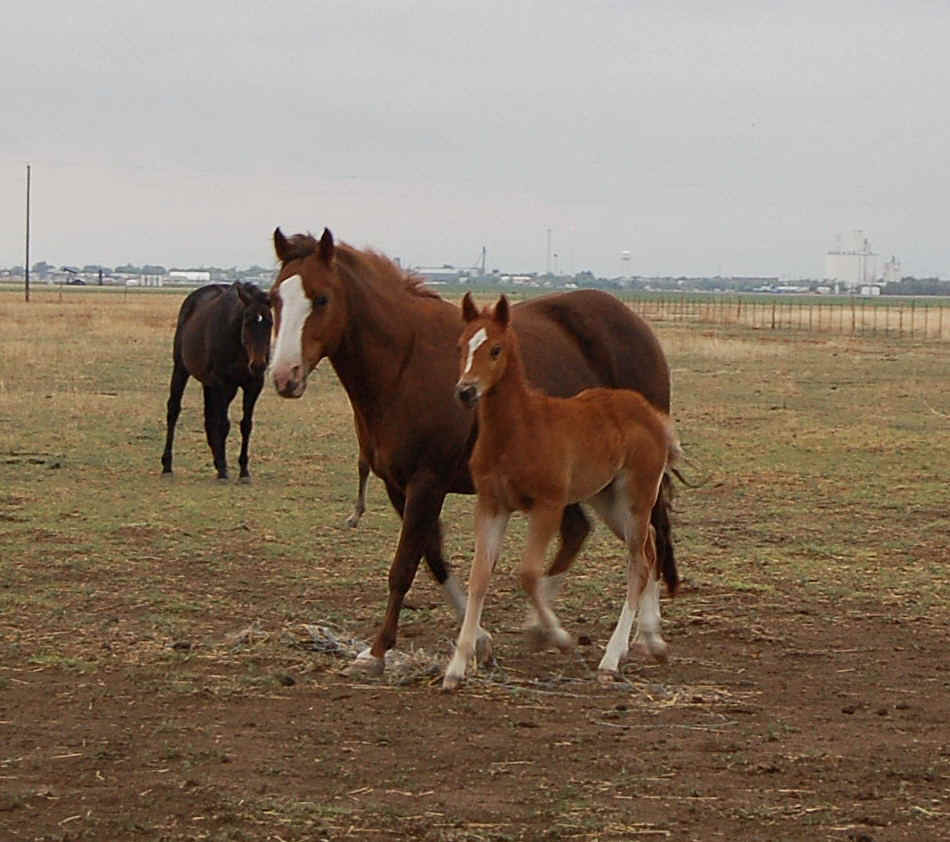 2002 Pal, 2003 top rt, 2004 top lt shown with 2007 filly shown with 2006 stud colt
Congratulations to Victoria & Eugene Rodriguez, Pearsall, Tx on your purchase of Chessie!
DOCS JAY J & SPEEDY GLO & OKIE LEO MARE
DOC'S J JAY
DOCTOR JAKE
BOURBAN JAKE
OKIE LEO
OKIE'S HOLLYWOOD
CHESSIE GLO BOURBAN
1994 Chestnut mare
SPEEDY GLO
SPEEDY GLOW JR
MISSY GLO ETERNAL
ETERNAL BONANZA
MISS ETERNAL COY
1994 15.H, 1240 lbs Chestnut mare
Huge gaskin
Chromey and throws chrome
Easy breeder
Heavy bodied
dam of GOLD CRUSH
Sound
In foal to DASHING MARVIN SI 94
SOLD
---
BUCKSKIN BROODMARE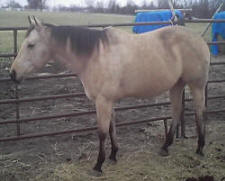 THREE BARS
BAR MONEY
BAR MONEY SUNNY


BAR MONEY PENNY
1995 Buckskin mare
13 year old AQHA buckskin
Sire: Bar Money Sunny by Bar Money
Her name is out of Bar Money Sunny out of Bar Money out of Three Bars.
She is in foal to Redneck Jackpot own son of Redneck Jet, the 2007 world champion amateur pole horse.
Redneck Jet is by son of Rene Dan Jet
Located in Missouri
Price: 3000
CONROYBART010708
---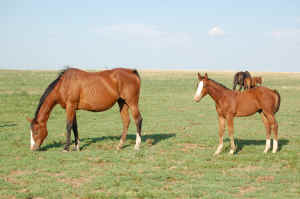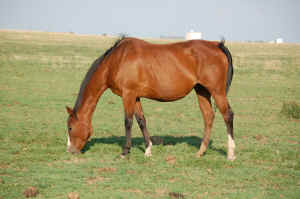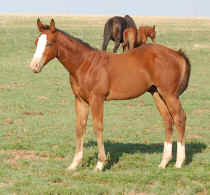 picture taken 8/9/06 with 2006 stud colt
OWN DAUGHTER OF SINN FEIN
Three Chicks SI 100
THREE OHS SI 100 LTE $201,716
Oh My Oh SI 100
SINN FEIN SI 98 LTE $70,000
VANSARITA SI 95 by Vandy ROM
IM SINN CEEDIE
1984 Bay mare
TOP DECKSI 95
TOP BRACKET SI 95
Aunt Ceedie ROM
Baldy B
Senorita Red
1984 Bay mare, 15H, 1075 lb
Was a barrel horse
Always throws a chromey, flashy foal
Her colts run barrels and ropes
Always goodlooking colts
Hard to find these bloodlines this close!
Has had 3 blood bay foals with 4 white stockings!
2006 foal is a stud colt
SOLD
---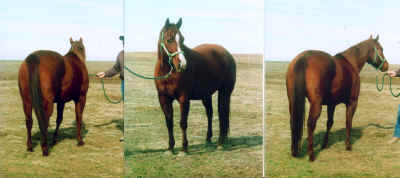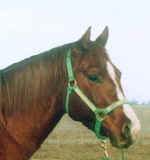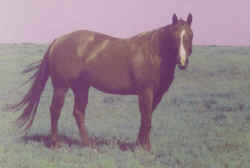 SMART LITTLE JERRY DAUGHTER
SMART LITTLE LENA World Champion
SMART LITTLE JERRY LTE $197,000
PLAYBOYS RUBY (dam of Ruby Tuesday just sold for $450,000)
No 2 All Time Leading Producer
JERRYS SCARLET CIELO
1999 Sorrel mare
GALLO DEL CIELO (deceased) World Champion Sire
SCARLETT CIELO LTE $245,000
DOC O LENA NCHA HALL OF FAME
SCARLETT O LENA LTE $242,000
14.2H Sorrel, 1050 lbs
LOOK UP the stats of these bloodlines
OUTSTANDING BLOODLINES & LOOKS, TOO!
Scarlett O Lena's colt HOLD YOUR BET, just sold for $180,000 NCHA sale
Unshown due to injury
Infoal to Mr Skipper Depth
SOLD

---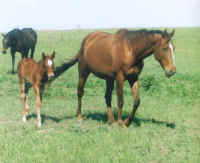 CHEAP, CHEAP GRANDAUGHTER OF ZAN PARR BAR

ZAN PARR BAR World Champion & Multiple World Champion Sire
ZAN PARR CRICKET (deceased) WPRA & Barrel Futurity Earning Sire
ZAN TE CASH
2000 Sorrel mare
ROCKET WRANGLER SI 97
DASH FOR CASH SI 114 LTE $507,000
GONE TO THE MAN SI 94 LTE $70,000
DREAM CASTLE SI 95 by AZURE TE LTE $119,022
Shes Man Enough
MOON DECKSI 95
MOON SPOT IT SI 90
Lucky Luna Lady
PACIFIC BAILEY SI 100
Forever Lovely SI 93
2000 AQHA 14.3H sorrel, 1000 lbs
Royally bred mare
REALLY CHEAP
Sweet & Kind
Was started under saddle
Accidentally got bred last year
Nursed her foal & an orphan foal, too in 2004
Colt at side by Mr Skipper Depth
Buy at DEVERS ARENA
SOLD
---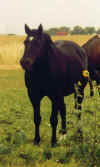 HANCOCK & BUCK DODGER
Tom Hancock
Cinnamon Hancock
London Soapy
Inkom Hancock
London Jill
London Daisy
1987 Black mare
Buck Dodger
Didy Buck
Tammys Penny Buck
Brandy Kay Bailey by Whiskey Bailey
1987 AQHA Black 15H, 1200 lb
Foundation Hancock bloodlines
Black color factor
Has had black, black tobianos & roans
HEAVY made
Lot of bone & hip
Produced rope horses
Sound
Infoal to Skipper W stallion (pictured under Stallion section)
Buy at DEVERS ARENA
SOLD
---