TESTIMONIALS
1/6/14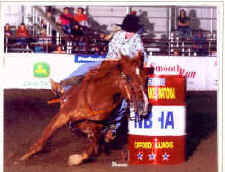 RIP Lightning P Rod Pole Melter, 30ish? yr old mare, we were proud to have had you in our barn.

This was a very special little mare that won for 6 different sets of kiddos that I sold her to. She had already won the AJRA Finals prior, too. Her record is too numerous to list AJRA Finals Champion, NLBRA, CJRA, TJRA, NWOJRA, JRCA, Champion Of Champions..it is long.. She won for kids in Oklahoma, Iowa, Texas, Colorado, Karis King, TX, Ellie & Skyler Eagle, CO, both of Cindy Boyers girls in Iowa, that is just off the top of my head and lastly she was placed with Terri Willingham who had the faith to buy her sight unseen in 2007, (they won her the very first weekend) I am not sure how old she was but I know her heart to win was huge...she was a good one and thank you Terri W for letting us know. Sorry for your loss of her but I know you gave her a great home.
RIP : Lightening P Rod Pole Melter

FROM TERRI W:
"Hi – I bought the mare Lightning from you way back in 2007 I think it was. My older boy rode her and won on her and my youngest (who is 6) was still riding her this year. She won her last all around title in May this summer.



I wanted to let you know that we had to put her down today. After May she had a touch of founder just show up and it has steadily gotten worse. With the cold weather that has come in, I feel like now is probably the best time. Her spirit is still there but her poor body has given out.



I wanted to let you know that she had a wonderful life with us and a good home. She was fat and sassy right up until the very last few months when she couldn't get around as well and hasn't been eating as much. We are so thankful to have had her. She was a 100% winner!
_______________________________________________________________
Note on Facebook from Jana Guthrie on her purchase of my mare, Bubbles 11/3/13
I have finally learned how to ride this amazing mare, thank you Sabrina Devers.
She is super talented.
Yesterday were 2nd in 2D and today we were 16th in the 1D against tough horses!
If anyone is looking for a horse,
go see Devers Performance horses they are nice!
******************************************************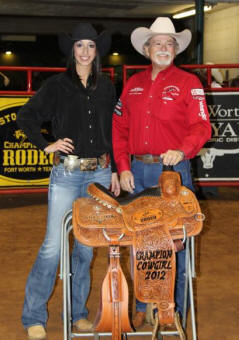 FANTASTIC NEW YEAR 2013 NEWS!!
EJ Glidewell & Sam bought though DEVERS HORSES this summer wins the FT WORTH STOCKYARDS year-end saddle!!
++++++++++++++++++++++++++++++++++++++++++++
Dear Devers Family,
Hi! We are so thankful Trouble got a good home and they are happy with him. Alana thinks about him all the time.
Brannon has been such a blessing.
The Lord has blessed him and Alana beyond measure!
They had a wonderful state finals and were able to make it to nationals.
They hit a pole in the first go and placed 3rd in the second go with a 19.9! We are so thankful to have him! We hated so bad to hear about Doyle! Alana keeps in touch with Emily. Hope all is going well with you all! Hope you have a very Merry Christmas!
Lance & Alana Sanders & Brannon!
(((((((((((((((((((((((((((((((((((((((((((((((((((((((())))))))))))))))))))))))))))))))))))))))))))))))))))))))))))))))))))))))))))))))))))
Exerpt from Facebook conversation 9/12/12 from Mary Quisenberry & Angela Sims:
Angela, u r right about Sabrina. I have never seen anyone work so hard at finding the right match for a kid.
She had other horses there that she could have sold us but she went the extra mile to make sure the horse was the one
Jenny needed and even set up all the transportation from Arizona to here.
Jenny has already fallen in love with her Strawberry
*********************************
9/1/2012
Another FB note from Emily Jane Glidewell, TX who bought Sam, She has done really well immediately after buying him.:
"Things are clicking! Six in a row at northside, getting faster and faster everytime!!
Third for the all around money right now!!!
I love him and we are having such a blast! Thank you! EJ
_____________________________________________
8/27/12
It is so nice to hear from our kiddos. This was Cody's litttle mare, Pearl, that he won his 2nd saddle on.
Royal Denim Pearl
Hey Hallie, THANK YOU SO MUCH for the update on Pearl.
It was so good to hear you are doing well with her.
I hope you can send a pic sometime so I can post it on my website www.barrelhorse.com.
Friend request me on Facebook so you can keep us informed and send more stuff!
Thanks again, Sabrina Devers
***************************

8/16/12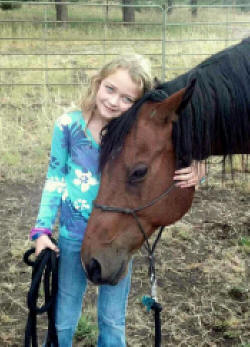 Thanks Marty and Sabrina for finding us the perfect match for Kylie!
We all love Doc and look forward to alot of good times with him.
It's really great to be able to trust someone when you're looking for that ideal horse,
a horse that Kylie can enjoy and improve on!!! Thanks again for making her one happy little girl!
Karen Dillon
---
8/6/12
Sabrina.
Jaycie wanted me to send this picture to u also.
She was 2.5 at coopers roping this yr. 2.4 was fastest time.
She loves her horse and we figured her out. Has made her roping much better.Thank u for finding her for us.
The Braudericks Oklahoma

11/1/11
Here is a wonderful note from an owner of Zan Te Cruz, this was a colt we raised both him and his dam. He was my youngest son, Cody's first colt to break. We were
so excited to hear of their success with him in the Drill Team exhibitions at the AQHA World and NRHA World Finals. Thank you so much for the update, it was uplifting
to know he is loved in such a good home!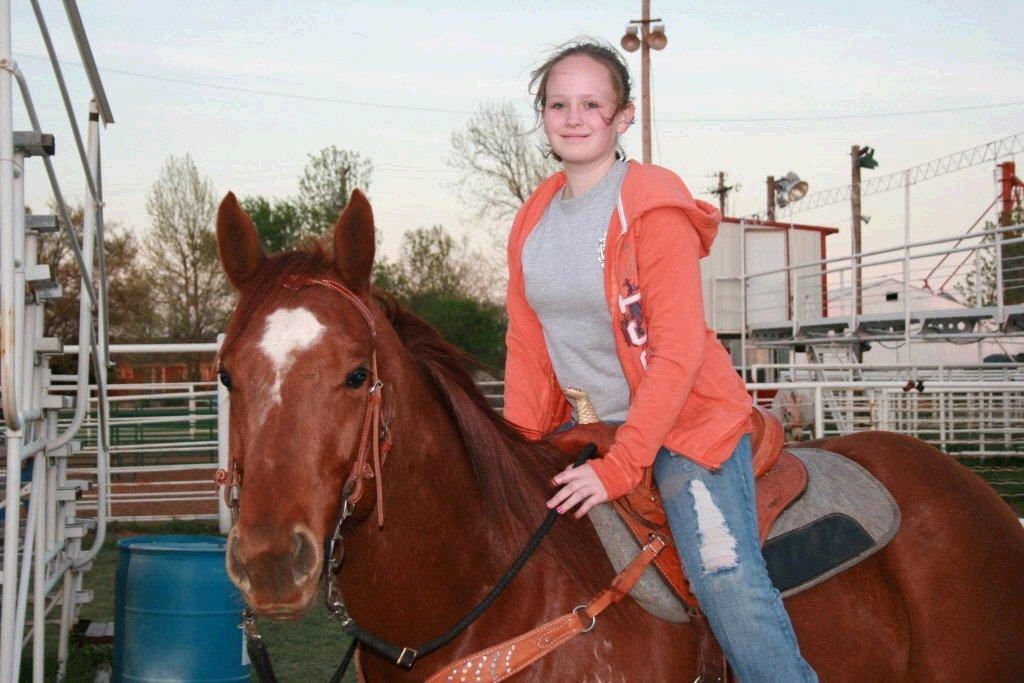 Marty & Sabrina
This pic is during the time that we were testing ZTC to see if he was able to be a drill horse. We tested him during four practices before we purchased him. The team has 14 riders and they ride fast and a lot of times, boot to boot. Very close quarters and they are put off of the team if they try to kick or bite. He passed all of the tests with flying colors!
I'm so excited to hear from you and YES, you can use my email on your website. Your son, Cody Devers did a WONDERFUL job training him!
I'm going to look for some other pics to send too....searching thru my computer for more. This pic was taken 4/13/2010.
He has had some pretty "high-brow" opportunities with the Freedom Riders....that we NEVER expected in a million years! The invitation to perform at AQHA World last year and again this year was the ultimate experience, along with the reining futurity. We also were contacted earlier this year to appear in a movie that will be released sometime in 2012, called Cowgirls N Angels. They ended up not using the team because of the young ages of our riders and went with an adult team instead. Pretty disappointing, but exciting non the less!
We attend a "cowboy" church and have lots of opportunities to learn other things to do with ZTC other than drill. Gabby will be taking some sorting classes pretty soon. She has never done it before, but we are excited to see how he takes to it. We'll keep you posted.
Kim Rhodes, Oklahoma
*******************************************

10/14/2011
IN MEMORIUM of Cheeseburger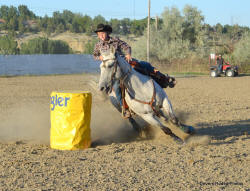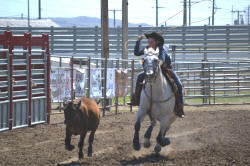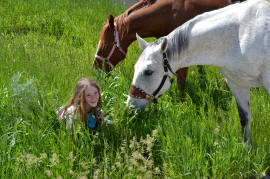 Hi Sabrina,
Just wanted to send you a thank you for all you did in helping use find the right horse. Cheeseburger was an amazing horse that taught my daughter a lot in the short time that she had her. Danica won 2 Buckles on her, one in Breakaway, which she only learned to do on Cheeseburger part way through the season and ended up winning the Buckle, She was pretty excited. And also winning a Buckle in Goat Tying. She also won lots in Barrels and Poles on her as well. Cheeseburger also qualified her to compete in the Champions of Champions Rodeo here as well. She was that " One of a Kind Horse" and unfortunately was taken way before her time. But we are blessed to have gotten the time with her that we did.
Thank You
Rachel
__________________________________________________________________________________________________________________________________________________
Tue 2/8/2011 6:56 AM
Sabrina and Marty,
Thanks for all the help in finding us the right match for Lexy. We purchased Famous from Kelly Jett and he has been everything she said he would be. Lexy has only got to run him a couple of times and has been in the top 5 everytime. We also purchased Faith from Emily Miller and she is great too. Lexy has did great on her. She has only rodeoed on her two times and has placed on her with a 2.8 and 3.4. She has also been using her for goat tying and she is just getting better and better. She would of got a 7.7 at the one rodeo but the goat got up in 5 seconds. We are extremely excited for a great future. Lexy will not be rodeoing for a while now as she was in a bad car wreck in December. She broke her left leg and her right foot. The right foot heeled up in no time. However her left leg has alot of damage to it. She will be having surgery on it. Of course she plans on being ready for regionals in June. Luckly we only have those rodeos to qualify for state.Kelly has Famous right now getting him fit and ready to go. She is an amazing lady and we are truly blessed to have met her. I just thought I would drop a note to say Thanks for everything and we could not be happier with our new horses they have fit right in . They are both such characters. As soon as we get some pictures I will send you some. Thanks again . Roberta
__________________________________________________________________________________________________________________________________
August 2, 2010
Dear Sabrina,
Just wanted to drop a note and let you know how Gracie has been doing on Angel! She ran her in the white deer rodeo friday night and took first with a 17.5. She also took third in the pbra barrel race 8 and under out of 12 very talented boys and girls. We are very proud of her being that she is only 5. We can't say enough good things about Angel (Brandy). She has been a God send to our Gracie. Also, after the two days of tune ups and lessons with you, she came back running 1-2 seconds faster in barrels and shed 3 sec off her pole time. Thank you sooooooo much Sabrina! I tell everyone I know about you and have nothing but good things to say. It's realllllllyyyy hard to find a horse trader that is honest and will not buy another horse anywhere else. Thank you again!
Sincerely,
The Sims Family
*****************************************
Jan 2010
Dear Devers Family'
I think Eeyore is one of the best purchases that we have made not that our other horse aren't good, she just goes with the flow and does whatever you ask. We had taken another horse for Taylor to do her reining pattern on in her queens contest and he was not acting very well so at the last minute she decided to jump on Eeyore never even practicing the pattern on her, you would have thought they had been practicing for weeks. She also used her to carry the flag on and her queen salute. Hope ya'll have a Happy New Year.
Thanks again,

Andrea Pearson
---
Sent: Monday, December 21, 2009 10:46 PM
From: Andrea Pearson [mailto:andreap56@msn.com]

To: devers@barrelhorse.com
Subject: eeyore
Hi, Just going to give you an update. Apollo is doing great graining weight by the day. Tayten loves him.

Eeyore is adding to her accomplishments She has officially helped win the Region VI Junior High Rodeo Princess Contest.
Taylor used her this weekend in Athens for her horsemanship pattern and to carry a flag on. So were are qualified for the Junior High Rodeo State Princess pageant in Gonzales.

Thank you so much for such great horses.
Andrea
---
June 1, 2009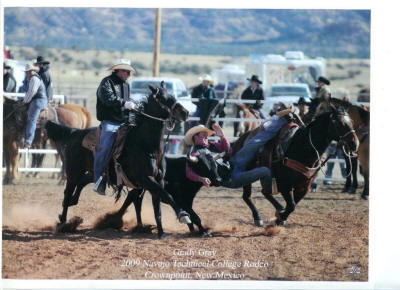 Sabrina and Marty, This picture is Grady Gray at Crown point NM at a college rodeo. This weekend he performed at Silver City, pro show and end up 3rd in the average. He really loves Gator, thank you so much he is a great little horse.
The Gray's
*************************************************************************************
February 2, 2009
Dear Marty and Sabrina,
I finally got around to getting you a picture sent; sorry I'm a little slow when it comes to these things. The paint horse a.k.a. "Jake" has been
doing really well. We had a little bit of a rough start, but things re starting to click. I started him in the barrels and poles and he's cruising through
them pretty well. A few weekends ago in his six events he had 4 first and 2 seconds. I won the teamroping (heading) Saturday, was 2nd Sunday.
In the breakaway I was 2nd Saturday and 1st Sunday. In goats (it was his very first time to ever do goats) I won it both days, so needless
to say Jake cleaned house. Also a friend of mine won a few rounds at a team roping in him heeling. We are currently sitting 1st out of 155
girls in the Little Britches Rodeo World Standings in Senior Girls Breakaway Roping. Over Thanksgiving weekend at a LBR rodeo between
the two performances and the jackpot that night I was never slower than a 3.5 and was 11.9 seconds on 4 head.
Hopefully, we can keep it up this spring. I'm sure after working on barrels and poles everyday, he will be glad to be back roping again.
Thanks for everything! Hopefully we will see you at some rodeos this coming season.
Emily Miller Garden City, KS

P.S. The picture is from a Kansas High School rodeo this fall where we were a 2.5
*****************************************************************************************************
September 22, 2008
Hi Sabrina - I just wanted to let you know that Lightening is doing great! She is winning for Cole already. The first week he competed on her (which was the same week we got her here), he was a 6.6 on goat ribbon at CTYRA. That is an arena record in the pen at McGregor. He had a bauble on the poles and was just behind the winners.
This week, he ran a 22.4 on the poles Friday night at CTYRA and a 24 the next night at Pro Youth. The Pro Youth run was deep and heavy ground and we got up to the gate to wait our turn and they were calling our name. Needless to say, we weren't over - prepared and to her credit, she did it all anyway. Plus, she is still a bit out of condition for that heavy ground and two runs in a row so we can really improve alot.
Cole won the poles Friday night, was 3rd in goat ribbon with an 8 (he fell down when she stopped so fast this week but an 8 with a fall is great) and got 3rd in poles Saturday night!
Needless to say, we love the Lightening! She is really easy for Cole to ride (just like you said!) and he is doing wonderful with her. I can't brag enough on her. We haven't even tried her on barrels or flags yet.
Just wanted to let you know how well things were going. Thanks again!
*******************************************************************************************************
JULY 30, 2008
Sabrina, this is Dakota Scott and just wanted to let you know I still have JJ . He is awesome I'll never be getting rid of him. We have won 2 all around saddles and numerous buckles. I haven't been doing many junior rodeos like I did when we first bought him so we kinda slowed down alot over the past couple of years. But he is still the horse I went and tried 4 or 5 years ago. I will be going to college next year and I haven't decided if I want to college rodeo or not. I know we wouldn't have any problems winning but it's just something undecided at this time. But anyway, just wanted to let you know and kinda suprise you with an update. I see ya'll are still doing good with this whole thing and that is great one thing about you, you hooked me up with one awesome horse. There for awhile I had one name to look out for and I was only 12 winning the entire rodeo which is awesome for a lil girl to make $800 in one weekend and getting the bragging rights of beating people double my age at an open rodeo/CRRA... Good luck to all your sales and the ones purchasing them.
Dakota Scott & JJ
****************************************************************************************
October 4, 2007
Sabrina,
I just wanted everyone to know exactly the kind of people we are so fortunate to have out there in the HORSE world. First of all I want to say "THANK YOU" for helping us find the right horse for Kamri. Cadillac is perfect for her. They are getting along great and without your help we couldn't not of found him. You and your family are very eager to help and find the perfect match and if you don't have it you will find it for anyone. We were one of the lucky ones to have found Cadillac. I have been looking on your website for a couple of years now and I really believe that God lead us to you and your family because he knew you would take care of my daughter and not put her on something that would hurt her just to make a sell. Not only did we learn alot and you spent about 3 hours of your personal time with my daughter (one on one), I truly believe we have made a lifetime friend with you and your family. Your son worked it to where we could afford Cadillac and now he is apart of our family. Thank you very much to you and your family. You guys are great asset to have in our horse family because of the trust, honesty, dedication of putting the right rider with the right horse, and the constant advise you are so willing to give anytime by phone or e-mail. I wish you and your family lots of luck with your Jr. High Rodeo's and to you on you barrel racing. I know they will be successful for you guys.
AGAIN THANK YOU VERY MUCH FROM THE BOTTOM OF MY HEART AND MAY GOD BLESS YOU AND YOUR FAMILY.
DeEtte Criswell and Family
Guthrie, TX
---
August 2007
Sabrina,
Hey! I'm sure that you don't remember us, but we bought Chief through you about 5-6 years ago. He has been a jewel and is still going strong at 21. I thought you might like an update…..
Then

2001 Now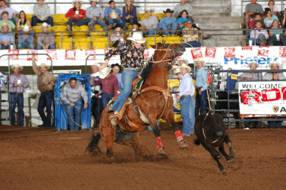 2007
2006 – 2007 wins….
Reserve champion 10 and under barrel horse (with my son on him)
Reserve champion girls breakaway (4 States High School Rodeo Assoc)
Champion breakaway (Texas High School Rodeo Assoc – Region 5)
#3 in the state at the State finals in Abilene, and is on his way to Illinois in July.

Chief has been a pleasure for both of my kids and I really appreciate you helping us find him. He is still extremely strong in the box and on the barrels. He has been a blessing!!!
Hope to see ya'll again someday!
Thanks again,
Penny Cox
Marshall, Texas
---
July 2007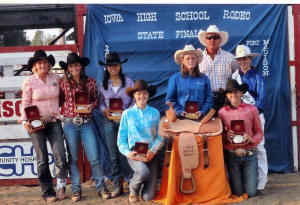 Hi Sabrina! This is Chelsea Buckingham from Leon, Iowa. My family bought Wingo and Speckles. I'm doing great with Wingo, I'm going to nationals for IHSRA, in the barrels. I didn't make it in the breakaway or the poles, but I did end up 6th in the poles, 3rd in the barrels, and I only had 4 points in the breakaway. But I just wanted to thank you for your help. If it wasn't for you and your families help I would have never gotten back up on my feet so quickly. I was having the hardest time for awhile, it had definitely been a rough winter. But I made it through, thanks to you and your family. I just wanted to say thanks again for your help, and I'm so glad that we got Wingo and Speckles. Angel took me to far places and now it is Wingo and Speckles turns to help me along.
Thanks Again,
---
August 2007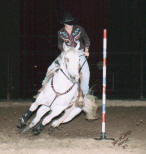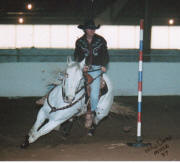 "Hi Sabrina, just wanted to let you know how Kaley and Sealy did at Shawnee, OK at the IFYR last week, she won the second go with a 20.8 and went into the short go 4th in the average and ran a 21.6, kind of missed an end pole but ended up 4th in the average and brought home $2200.00! How cool is that!!! Deanna Cobb"
---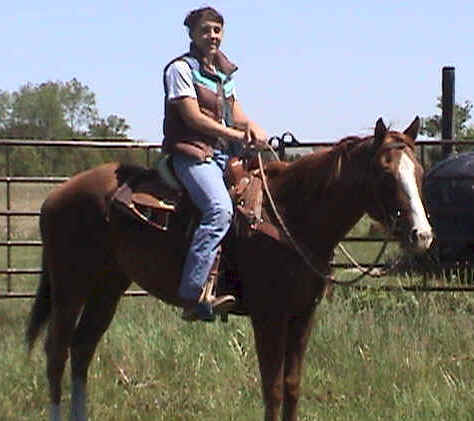 JUNE 16, 2006
Congratulations to the Sellers family, who after a tragic accident with their previous horse, found Feature A Vittoro on our website
and made the long trip from Cincinnati, Oh area. Bought him and rode in the trailer with him home, had him saddled on the way
and the next day was riding him. That is awfully good for a 5 yr old unbroke colt and a 16 yr old girl!!
Can't say they will all breakout that easy but it was for the Sellers!
Thanks again for coming the 40 hour round trip to Texas!
---
March 27, 2006
This letter is from new customers Bambie & Bailie Allemand, Buffalo, Wy. Here is what they had to say......

My daughter and I headed to Texas on a video and the word of Sabrina Devers. We were not disappointed at all.
Everything she said about our new horse has been the truth. It is a challenge sometimes to believe a person that
is selling something, we didn't feel that way at the Devers. We have The Devers Performance Horses address and
number on our important people to know list. When the day comes that we are looking again to buy we will definitely
give the Devers a call and see what they have and what they can find for us to go and try and or buy.
Thank you Marty and Sabrina Devers, BJA x 2 Wyoming
p.s. They also had so many colts around there, they had raised, that I found one I couldn't live without and I brought him home too.
I have not regretted a day that I brought home a horse that I really didn't need
This little guy has a great mind and seems to have a great performance horse future in his athletic abilities
I can hardly wait til he grows up enough to ride.

Sincerely,
Bambi Allemand
---

March 20, 2006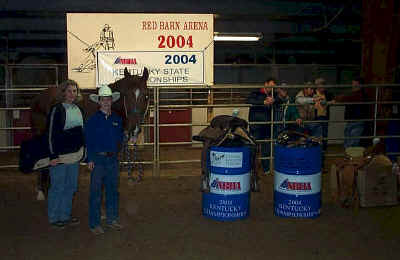 Sabrina,

Well this is where Snooter won in 2004 in the KY State Championship Youth -
the only horse in the class to run a 15. He won the championship saddle. I
picked up another saddle in 2005 - 2nd division District 05. I have added
probably another 3 to 4 thousand dollars on his LTE.

I showed him probably
5 or 6 times and got his ROM in AQHA on him in hardly no time. He is a very
special horse and We love him to pieces. Let me know if you find his
younger brother or sister in the incentive fund.

Thank you again for
setting me up with such a wonderful horse.

A very Satisfied Customer

Cassandra
KY
_______________________________________________________________________________________________________________
July 6, 2004 (Kenzee is 4 yrs old and may weigh 30 lbs, had broke her arm in a previous horse related accident but still wanted to ride when we met them. Kenzee & Choctaw have now won a buckle, too!)
Sabrina,

The Kent family would like to thank you and Marty on the
time and effort you spend with Kenzee to find her the right horse.
Kenzee will not get off the paint without a fight. I hope we can win
and compete this summer, we are already entered in a few rodeos that
have a five and under division. I just wanted to thank you for your
time and effort with Kenzee and we will say in touch and send some
pictures as some as we get them in.

Thanks again,
The Keith Kent family,
Roby, Texas
@@@@@@@@@
May 12, 2004
Sabrina,

Just wanted to let you know about Trackr. We won the 2D a couple of weeks
ago. He is taking care of me. Everyone loves him. We went also to the
Turn-N-Burn which is really big but we didn't place against the best, but we
have come along way. Another lady was going to contact you to look for a
horse for her daughter because the one she has is not working and she wanted
to sell it. I told her you could help her out with both of those
Hope everything is good with you.
Many people ask about your brand, Looks Great!
Thanks so much!!
Next year I think I will be looking for another horse.
My mare is bred, she is about 4 1/2 months, can't wait to see the baby!
Melisa

*************
Aug 20, 2003 ( We had sold Snooter to Kate Waetjae, Oregon as a temporary transitition horse and told her when she was done to let
let us know, we would resale him for her. Which we did, as the testimonial from her father, Jeff, shows below.)
You are awesome! Thanks so much. He truly was/is a special horse. Hope we don't regret letting him go. Kate did real well on Snooter. She did well on the other one this last week-end so hope that keeps up. Not sure this one is any better than Snooter but can't justify keeping all 3. Again, thank you so much. We tell everyone how great you have been. Jeff Waetjae

**************
We would be happy to be a reference. Believe it or not, we have been singing your praises in East Texas!! The horse suits her to a T and as I said he has brought back a confidence in her that we thought was gone. They get better every trip.
Thanks so much for hanging in there with us. When Kristi is ready to move on and Chief is pasted down to our son Pake, we will be calling YOU. I'll get you some pictures soon.
Thanks,
Penny Cox
******************
Monday, November 04, 2002 11:37 AM
Hi Sabrina: Just an update on Sassy. The old girl and I took two year end buckles in team penning this year. She is quite the girl! We are still in the market for a LQ 3-4 horse trailer. No big rush but I am putting out some feelers. I do want a 8' wide and I did listen to your advice about heavy haulers. I still kick myself over that Hart you had last year. Oh well one will come along again. Say hello to Marty.
Dick
************************
11/21/01
Sabrina

Just a short note to let you know how much we appreciate and applaud your
work in getting us "Einstein".

While buying a horse completely unseen and two thousand miles away is
somewhat different, he completely fills the bill and exceeded our
expectations. Amongst the numerous compliments he gathers everywhere he goes
is the question of "where did you get that horse"? People always respond
with the same "No, Really" when I say that he was ordered off the Internet!

You are certainly a credit to this industry and someone that I will look to
deal with in the future.

Please accept our heartiest wishes for a terrific Christmas and super
Holiday season....

Ken M.
Yakima, WA

************************************************************
December 17, 2001
Sabrina,
Hello. This is Krystina Sovinski I was down
there with my family over the summer and we bought Doc
and Jetta. Well just wanted to tell you a little bit
about what has been going on up here. First thank you
for the pictures they are great. Second the horses
are doing just great. I have been to 3 speed shows
with Jetta and Matt has been to 2 but we took Doc to
another one with me and my friend that has horses rode
him. So he has been to 3 but 2 with Matt. Matt is
getting to be a better rider and he is making a lot of
money with Doc. He took High Point in the speed show
on December 15th and Doc did a great job. He was a
little jumpy after he did a couple of games but he is
just a great horse. My dad and I went for a 2 hour
trail ride with him and Jetta and he did a great job.
He was great with my dad on him and was very gentle.
He is loved by all of us here. I have rode him a
couple times and he is just a great horse cause he
listens so well and was so well trained. Jetta and I
have also been doing well. We took Reserve High Point
in November and was one point away from Reserve again
on the 15th. She is getting better and better
everyday I ride her. Glad to say that I am getting
more experienced on her and I am becoming a much
better rider and I am not afraid as much as I was
before. I enjoy riding her every minute I can get. I
just can't wait to breed her so I can enjoy one of her
lovely babies. Well I think you did a great job
picking out the right horses for each of us. Hope to
hear from you soon. Have many Happy Holidays!

Krystina

*********************************************************
September 16, 2001

(This is a Cutting Futurity colt that was the 1st horse the Hogelands, Medicine Lodge, KS,
purchased from us, sight unseen and having never met us other than on the Internet. We are so proud for them.
They are Super nice people)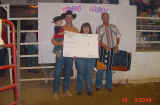 SABRINA,
WELL WE MADE IT ON CEE AT SALINA. WE SPLIT 1ST IN THE 2ND GO AND THEN WE WON THE FINALS
WE WERE PRETTY HIGH OFF THE GROUND. FIRST GO THERE WAS 79 HORSES AND WHEN WE MADE IT TO THE FINALS THERE STILL WAS 21.
WE COMPETED 5TH SO WE HAD A LONG WAIT TO FIND OUT THE RESULTS.
WHEN THEY TOOK OUR PICTURE THEY DIDN'T HAVE CEE IN IT BUT I WILL SEND ONE OF HIM CUTTING IN THE FINALS.
YOU GUYS TAKE CARE
JANICE HOGELAND, KS
---
August 2001
Sabrina;
Just had to drop you a quick note and let you know how Kelsi and Abby are
getting along.

Kelsi was entered in the American Buckskin World Championship Show in
Topeka, Kansas yesterday. She won the World on Abby in the youth barrel
division. We were so excited and so proud of both of them. My parents were
there and got to see their granddaughter and the horse they own win the
World Championship. Kelsi and Abby are still currently winning the 1 D
youth division in the NBHA district we are in. So as you can see Kelsi and
Abby are getting along just great!!

Take care,
Pam Starks

---
4/14/2001
Dear Sabrina,
Haven't been able to do much with Blazen Host up until now. That's the reason you haven't heard from me. Hauled him to the first barrel racing event last Saturday in Rock Springs, WY. Wasn't excepting to accomplish very much and just wanted to be able to make a nice clean run. Didn't push him, just kind of let him do his thing. And boy did he.....We placed 2nd in the Open 4-D with a time of 16.007, first place being a 15.8??. This is the first time I've run him on the barrels since he arrived. The weather here hasn't permitted us to ride anywhere. Conditioned him mostly on the hot walker and started 2 weeks before the barrelracing jackpot last Saturday. I think I'm going to like this horse way more than I ever imagined. Just thought I'd drop you a short note to let you know that we've just won our first paycheck and expect many more to come.
Sincerely,
Wendy Platts
---
4/05/2001
Hi Sabrina,
Johnny and I are doing fine. we had a great year last year. We ended up 11th out of Washington state for the American West, also placing second in the 3d in one of the races at the American west finals in Reno, also winning a buckle. he finished 2nd in the 2d for a series we have close to home ,winning a headstall for the end of the year.also placing in other races.
I'm sure you heard about Johnny bucking me off, I had been running almost every weekend and he dumped me in the Ellensburg rodeo arena we were running a jackpot race. had a nice run going came of the first going to the second and their I went, the horse can buck and run. come to find out my spurs bruised his sides and he let me know they were hurting him. We're doing fine now that was last June. Rider error not Johnny's. I really enjoy Johnny he's such a nice horse to be around.
I have you to thank for sending him my way. I really appreciate what you did for me.
Carolyn Greer & Johnny
---
4/03/2001
I took a picture of Dick and Janice Hoagland's stud horse Cee Thru Dee Mist
that they bought from you. I will forward you a picture so you can see what
a nice colt he is.
Thanks for all of your help.
Pam Starks

---
7/09/2000
Beth Hughes of California updates on her purchase of 1998 for her son Justin: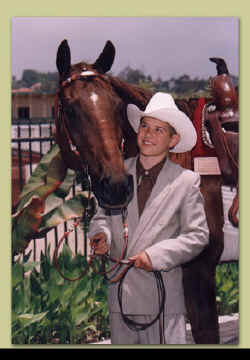 Justin Hughes and Mr. Dinero win third place in Showmanship at the 6th
largest fair in the United States of America, The Del Mar Fair 2000
---
Sent: Saturday, January 01, 2000 10:18 PM
Hi Sabrina, I wanted to let you know how Johnny and I are doing. Were doing great, we went to Reno last September for the American West 4D Finals and we did really well. He also won me my first belt buckle last year. I just wanted to thank you so very much for bringing Johnny and I together I could not ask for a better horse.Sincerely Carolyn Greer.
---
1/15/2000
Hi Sabrina,
Sassy is due to foal in March. I can't tell you howmuch I enjoy that mare! We did GREAT teampenning.
We took 2nd in ProAm in the state. We also took a few "one on ones" and finished high in the Open and
Sorting. She also tried Barrels with the kids and loves it.......

Dick McCubrey Gray, Maine
----------------------------------------------------------------------------------------------------------------------------------------------
12/27/1999
Dear Sabrina,

Just wanted you know that "Tex" (the yellow horse I got at your place is
doing great. We get along great and are finally starting to get it together.
Thanks again for all you did. See ya!

Lori B. in Colorado

---
BETH HUGHES, Bonita, CA writes:
So you've looked through the newpaper advertisements and the
horsetrader until you are crosseyed. Many horses seem to be close to
what you are looking for. Those you call, ALL say their horse is
perfect. Only you find out one is 3 not 7 years old, the other has only
been lame 3 times, and another has absessed hooves. You want a horse
and a particular horse at that. Perhaps you have even driven MILES
checking out this one or that one. Now you are ready....ready to
QUIT!!!
This describes me in October of 98. My husband chose 3 sources
listed on the internet. BUT, who in their right mind would seriously
buy a horse off the internet. Well, at least there were pictures to
look at. WWW.barrelhorse.com had all kinds of horses.
I called the Devers after looking at and reading about some of the
horses they had listed. Sabrina returned my phone call within 30
minutes. I started to ask her opinion on 8 horses. She stopped me and
asked me to please explain exactly who the horse was for and how we
intended to use it. There seemed to be such a quality in her voice.
This woman I was talking to sounded SO nice. There was no question
about knowledge. It spewed out in every word she said. She and I
talked long distance in the middle of the day for over two hours (on her $).
When I hung up, I was beyond excited and relieved. I was back in
the horse shopping business. Well, my exact words were, " I'm going to
stop worrying about this and leave it all up to you!" Sabrina asked how
much time she had. I wanted possession by Dec. 24th. The horse was to
be a Christmas present.
I totally stopped looking in the paper or horsetrader. I must
have called Sabrina everyday! A couple of weeks later, Sabrina called
me at 6:20 AM. The search was over. She had the perfect horse! She
said if I didn't want him, she did. I bought this horse sight unseen.
I allowed this woman, I didn't know, to spend my money. More
importantly, I trusted her to make the decision to put my 10 year old
boy on this horse.
To this date, I have never met Sabrina or Marty face to face. BUT,
I have in my possession the best horse God has ever made.......Thanks to
them!!! (So sorry, you'll have to settle for second best. Ha ha)
Everyday is a day where my 10 year old little boy goes riding. He puts
on his helmet and rides the horse with only a halter and lead rope on
about a 3 mile ride. A bridle and saddle are used on the weekend rides
of about 15 miles which includes lots and lots of looping.
Do I have any regrets? NO! Absolutely not a one!
There is no way that anyone can make you truely believe that these
people are so trustworthy, honest, skilled, knowledgable, and sincere.
Only you can determine that. Start by just calling and talking to
them. Discuss your needs, desires, and dreams of that perfect horse you
want. Then, after you've hung up the phone and think (as I did) how
nice and knowledgable these people seem to be, read the "About us"
section on their internet site. You'll pat yourself on the back for
being such a GOOD judge of character. A N D you'll never deal with
anyone else when it comes to buying or selling a horse.
Marty and Sabrina are there to help from worming to riding, tack to
trailers. Please feel free to contact me to verify any of the above.
Everyone in my town can NOT believe how lucky I was to get the horse I
got. These people aren't luck, they are a BLESSING!
Beth Hughes

-------------------------------------------------------------------------------------------------------------------


"Sabrina,

Again thank you so much for matching Bandstand Johnny and I up. Also thank
you for answering all my questions and trusting enough to send him here
without me being able to try him out first. He fits very well at our house
and with me. And he is very beautiful.

I'll let you know how we're doing barrel racing.

Again, Thank you so much,

Carolyn Greer,
Port Orchard, Washington"