SHOW HORSES
http://www.youtube.com/watch?v=xxM9VMfk5pQ
HALTER*SHOWMANSHIP*TRAIL*HORSEMANSHIP*QUEENS CONTEST
2002 APHA B/W 15.1H tobiano gelding
All Show events, including English
Rides great on trails & Parades, too
Gentle, Sound & Pretty
Kid shown
Try at Devers Arena
Price: $4500
---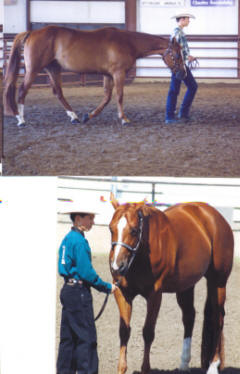 GENTLE & PRETTY
17 yr old AQHA 16H sorrel mare
Western Pleasure, Horsmanship, Trail, Showmanship, Reining
LOTS OF WINS
Tons of HALTER earnings
Gorgeous and no bad habits
Perfect for a little kid
Great for someone wanting a gentle to ride across the country horse, too
Comes from pasture with a whistle
N/N Impressive bloodlines
Priced cheap
Try in Kansas
SOLD

---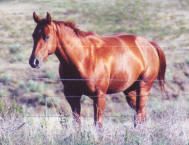 REINING-HORSEMANSHIP-JUMPING
1995 AQHA sorrel gelding
Shown in Reining, Horsemanship, Jumping
Very broke
Lesson horse
Not for beginner or little child
Try in Kansas
Price: $5000
CONDEBLAWRENCE041708SHOW
---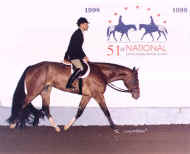 SB TONKA'S TIKI
'95 bay mare by SunbeachHonkyTonk-
Youth World Champion Hunt Seat Eq. Over Fences
Res. Youth World Champion Working Hunter
Res. National Champion Pre-Green Hunter
World Champion Pre-Green Hunter

National High Points:
1st Pre-Green Hunter
1st Open Hunter Hack
1st Youth Hunt Seat Equitation Over Fences
1st Youth Working Hunter
1st Youth Hunter Hack
2nd Youth Hunter Under Saddle

Lifetime:
Superiors in Hunter in Hand, Hunter under Saddle, and Hunter Hack

Has been champion almost every time out in the Pre-Childrens division at A rated horse shows on the east coast. Winner in the State Line Medal and in the Children's Hunter division. Always jumps, auto changes, very handy, broke to death. Would also make great dressage horse-half pass, counter canter, hip in, shoulder in, does all lateral movements.

SOLD

---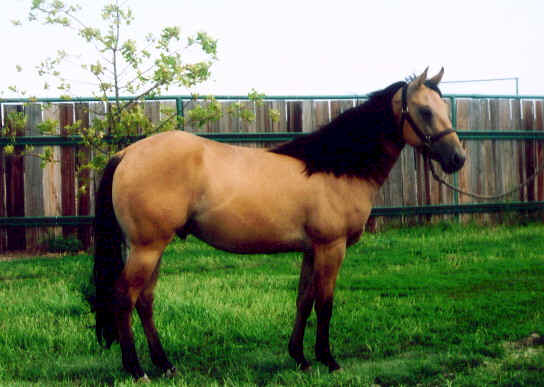 HOLLYWOOD DUNNIT GRANDSON
REINING PROSPECT

HOLLYWOOD DUNNIT (NRHA HALL OF FAME, NRHA LEADING ALL-TIME SIRE,
Production of over $2 million , 49% of this stud sold for $500,000)

HESA SONOFA DUN (AQHA HONOR ROLL CHAMPION, CONGRESS CHAMPION, NRHA EARNER)

DUN SPUN IT
2000 Dun Stallion
Own daughter of ZIPPO BAR PINE raised by the immortal PAUL CURTNER
2000 Dun Stallion, 14.2H, 1000 lbs
Excellent temperment with that classic HOLLYWOOD DUNNIT bodystyle
Started under saddle
Extremely natural stop
Quiet & Good minded
Tail touches the ground
Smooth as glass
Bargain Priced

dam to dun stud colt Zippo Industry
SOLD

---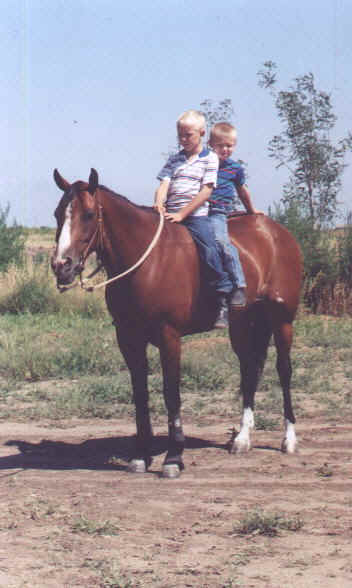 WESTERN PLEASURE, TRAIL & HORSEMANSHIP
8 yr old AQHA 15H Bay mare
Gentle, Gentle, Gentle
People oriented
Shown and rides great outside, too
Has been camped out with in the mountains
Located in Texas
SOLD
---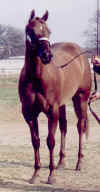 2000 SHOW MARE
sire: ACE HI COOL, WORLD CHAMPION
dam has won $100,000 and is a daughter of MR CONCLUSION
SOLD
---
YOUTH WESTERN & ENGLISH PLEASURE
11 yr old gelding, 15.3H
AQHA points
Extremely Youth gentle
Solid on the rail
Goes Hunter Hack, Western Pleasure, Trail
Horsemanship
Nice outside, too
No bad habits
SOLD
---
Smoking Colonel by COLONEL FRECKLES
"DOCE"
1993 Sorrel Mare
dam is grandaughter of FRECKLES PLAYBOY
15.3H Sorrel AQHA Incentive Fund mare
Shown by Youth in Western Pleasure, Showmanship & Horsemanship
Started 6 months on cattle for Cutting
Suitable for Teampenning
Located in Texas panhandle
Guaranteed Sound
SOLD
---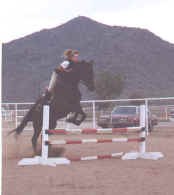 BAY THOROUGHBRED GELDING
15.2H, 18 yrs. old
Goes English or Western
Jumps Quiet
Very Honest
Good On Trails
Gentle & Sound
No Vices
Video Available
SOLD
---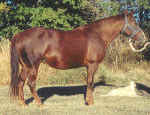 TENINO SAN OWN DAUGHTER

16 year old daughter of Tenino San
He is a NCHA bronze, silver, gold, platinum award winner, World Champion, and Hall of Fame inductee.
In foal to Jacspin, NRHA Non-pro futurity and Derby winner,
Open futurity finalist, Open derby Top 5 and World Champion producer.
Nice package.
SOLD
---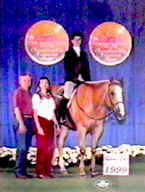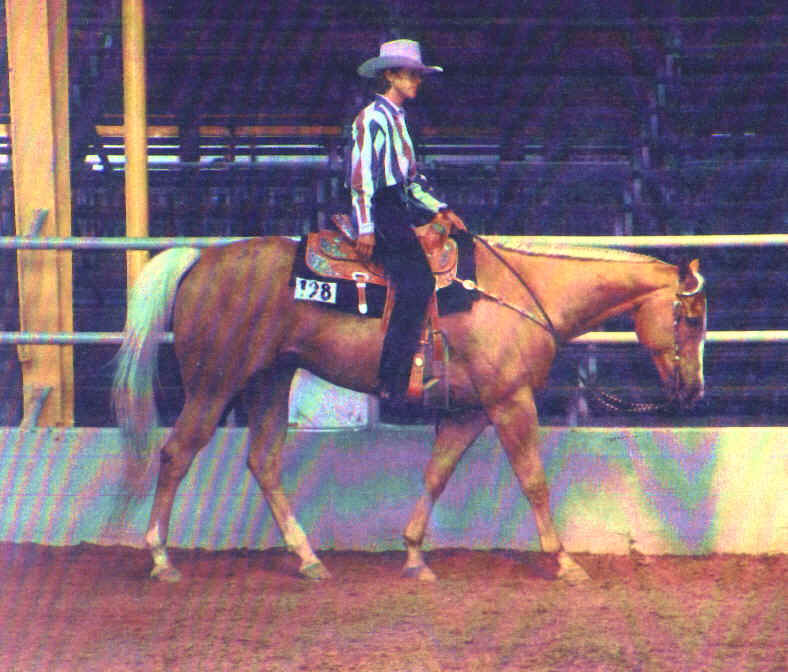 HONOR ROLL TOP TEN IN NATION
| | |
| --- | --- |
| | TETRA GOLD by SUPER LARK by SKIPPA LARK |
| 1992 Golden Palomino Gelding | |
| | dam goes to WRECKLESS MONEY |
16.1H, 1220 lbs
Halter Goodlooking that moves like Silk
ROMS in HUS & HALTER
PHBA World Show Qualifier
Well over 100 PHBA points Open and Amateur in:
Hunter Under Saddle, Western Pleasure, Hunter Hack,
Hunt Seat Equitation, Road Hack, Showmanship, Novice Showmanship
Trail, Color and Halter Points
SOLD
---
TOP TEN WORLD SHOW
MR ZIPPO JACK by ZIPPO JACK BAR
SHONUFF ZIPPO
1996 Red Roan Tobiano
SHONUFF ROAN by SKIPPER W BARS
Over $8000 in Futurity Winnings
APHA points in Western Pleasure: 45 Open/ 4 youth
1999 PINTO NATIONALS 5th Overall in Youth Western Pleasure
1999 PAINT CONGRESS 5th in Youth Western Pleasure
1999 Oklahoma State Fair- 1st in Youth Western Pleasure Overall
2 ROM's
Super solid in Western Pleasure and started under English
Double Registered APHA & Pinto
SOLD
---

LUNGE LINE PROSPECT
1999 sorrel filly
Halter and Western Pleasure bloodlines
Quiet & Started
SOLD
---
If you are wondering about the kind of horses we sell.......JUSTIN WE ARE SOOO PROUD
OF YOU & MR DINERO!!
Beth Hughes of California updates on her purchase of 1998 for her son Justin: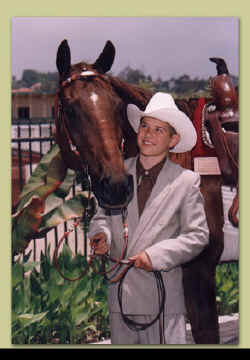 Justin Hughes and Mr. Dinero win third place in Showmanship at the 6th
largest fair in the United States of America, The Del Mar Fair 2000
UPDATE 2001
Once again Justin and Dee won at The Del Mar Fair, 2001
---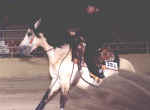 CONGRESS WINNER!!
HESA SONOFA DUN
1999 3rd Limited Open Champion
1999 Tucson AQHA Circuit Champion
1996 SWRHA LTD Open Champion
1996 NRHA LTD Open Champion
1996 RMRHA Summer Slide LTD Open Champion
Not only does he CONSISTENTLY WIN,
He also has a strong dun factor,
coupled with that beautiful "DUNNIT" bodystyle.
SOLD
---
SORREL & WHITE
WESTERN PLEASURE & HALTER
15H, 4 yr old Gelding.
Lots of Color and Confirmation.
Western Pleasure MACHINE
that could easily get Halter Points, too!
Has won over $1750 in WP Futurities.
Quiet and sweet for Anyone, even Youth or Novice.
In Kansas City, Ks area.
SUPER NICE!!
SOLD!
Price: $5000
---
APPALOOSA MARE
FIRST WAR DANCE, AQHA by WAR CHANT, AQHA
APPALOOSA MARE
1993 Sorrel CPO mare
ApHC 16.2H grandaughter of MIGHTY SHIEK
"CIERRA"
16H, dark chestnut Appaloosa mare
1996 Tennessee State 4-H Championship in Junior Hunter Halter Mares
1997 Tennessee State 4-H Championship in Junior Hunter Halter Mares
1997 Tennessee State 4-H Championship 9th out of 58 in Senior Hunter Under Saddle
Tennessee Valley Appaloosa Horse Club:
1st in Suitability for Dressage
1st Mares
1st Youth Halter Mares
1st Novice Youth Huntseat Equitation
1st Youth Huntseat Equitation 14-18
1st Novice Youth Hunter Under Saddle
1st Youth Hunter Under Saddle 14-18
2nd Open Hunter Saddle 4th in Aged Mares

SOLD
---
PHBA WORLD TOP TEN IN NATION
SOLD SOLD SOLD!!
SPANISH CHAPO (winner of over 150 pts & major
Palomino Producer)

1987Golden Palomino gelding